Inspector Hobbes and the Common People
by Wilkie Martin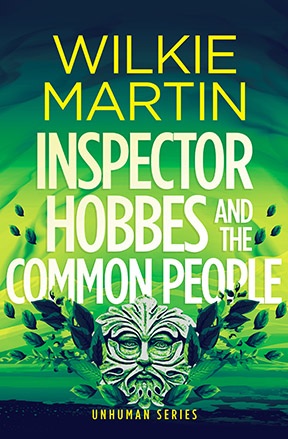 Unhuman V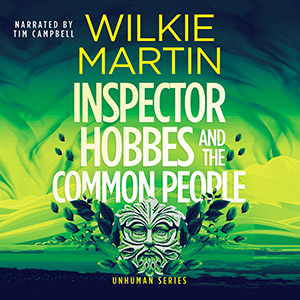 WINNER Audiobook Reviewer Choice Awards 2021
Mystery, Narrator & Best Team
Description
'
No stranger to fear since meeting the unhuman Inspector Hobbes, Andy Caplet fears getting fired from his reporting job (again). His main concern, though, is a shady property developer who has designs on Sorenchester Common, and more annoyingly on his wife.
Perhaps a trip to the mountains will help him relax, but this proves even more perilous with foul weather, inedible food, brigands, and a terrifying cruise. Fortunately, mountain leopards, Yetis and Flossy, the yak, take a shine to Andy.
Back in the Cotswolds, a child gets murdered and a new detective takes on the case. When Hobbes returns, he (with Andy's dubious assistance) is relegated to hunting an enormous bird with killer feet. Meanwhile, Andy still worries about the common and the reclusive Common People (surely Not Yetis?), who will lose their homes if the housing development goes ahead
This standalone novel is the fifth in Wilkie Martin's unhuman series of cosy comedy crime fantasies.
Reviews
'I love all the books in the unhuman series'
amazon reviewer

'Comfort style writing, put a smile on my face.'
amazon reviewer

'Once again another great foray into the world of the unhuman realm with Inspector Hobbes at the lead.'
amazon reviewer

'A fun, funny, entertaining read.'
amazon reviewer

'This series is so much fun!'
amazon reviewer

'Excellent!!! Loads of Fun!'
amazon reviewer
Listen to Wilkie Reading Extracts
Wilkie reads a selection of extracts:

1 – A strange face on the common
2 – A gold-edged invitation.
3 – Government visitors.
4 – Mountain sickness
5 – An altercation.
Read Wilkie Talking About Hobbes