Inspector Hobbes and the Blood
by Wilkie Martin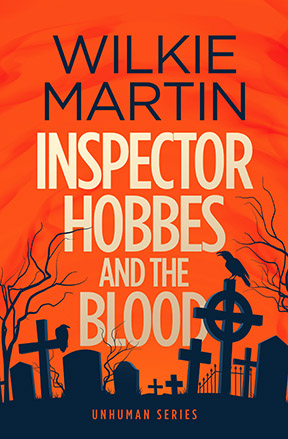 Unhuman I
Shortlisted Impress Prize for New Writers 2015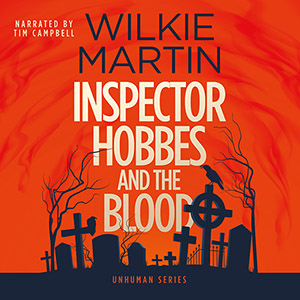 Nominee for ABR Audiobook Listener Award 2018
Mystery, Fantasy, Humour.
Description
As a crime wave breaks over the quiet Cotswold streets, Andy Caplet, the worst reporter in town, is reluctantly immersed in Inspector Hobbes's investigation. Allergic to danger and physical exertion, Andy is thrown into grave confusion at the discovery that not everyone is human. At the same time he must come to terms with Hobbes's extreme oddness and the tooth-collecting habits of Hobbes's housekeeper, the indomitable Mrs Goodfellow. Can a suicide, a murder, and a number of singular robberies be connected? If so, what is the connection?
When Hobbes goes missing, and the cops decide he's big and bad enough to look after himself, Andy, striving against deep-rooted incompetence and clumsiness, sets out to find him. With a delinquent dog to assist, armed only with a leg of lamb, and despite losing his trousers, he discovers the key to the mystery is in the blood. But in whose blood?
Where is Hobbes? And can he catch vampirism off false teeth?
This is the first in Wilkie Martin's unhuman series of fast-paced, comedy crime fantasy adventures, with lashings of great food.
'I ought to tell you, dear, he can get rather wild when he's hungry'
Reviews
'Odd, inventive, and genuinely very funny indeed'
Katie Jarvis, Cotswold Life, page 116

'fun and entertaining'
Carol Siewert, from books reviews forevermore

'How to describe the books? Well, if you like Terry Pratchett, Tom Sharpe or Tom Holt then this is the book for you. If you like absurdity, good writing, mouth-watering descriptions of food and humour then you will love this book. I did.'
Inspector Hobbes and the Bloods Book Reviews item created by old_fat_and_hairy

'If you have liked Wodehouse or Terry Pratchett or Douglas Adams, you are guaranteed to like these books.'
'I read through all the books as quickly as possible since I loved them.'
Review of the Unhuman Series by Wilkie Martin from digitalamrit.com

'a clever crime mystery with comedy and a good deal of fantasy mixed in',
'One cannot help but be charmed by the story and the characters.'
'Tim Campbell, the narrator, was equally awesome in his talented reading'
Charla White, AudioBookReviewer

'I like reading but sometimes I just want to unwind with a book. I used to enjoy Terry Pratchett and Douglas Adams and similar slightly skewed nonsense books with a dash of the impossible. Wilkie Martin, whilst not (yet) up there with those great departed authors, is ploughing a similar furrow.'
Drphunk Opinion

"This is a delightful read.'
Book Blurb blog

'reminiscent of the Sherlock Holmes & Dr. Watson team', 'I was in Anglophile heaven', 'pleasantly surprised by the book's charm'
Hamilcar Barca, Hamilcar's Books blog
Listen to Wilkie Reading Extract
Wilkie reads a selection of extracts:
1 – Andy meets Hobbes for the first time
2 – The gnome, Hobbes introduces Andy to his strange world
3 – Andy goes home to 13 Blackdog Street with Mrs Goodfellow
4 – Andy meets Dregs, the dog, for the first time
Listen to Wilkie Talking About Hobbes
Wilkie discussed his novel Inspector Hobbes and the Blood with Linda Dyson on Corinium Radio. The book discussion and reading starts about 10 minutes in.