Inspector Hobbes and the Bones
by Wilkie Martin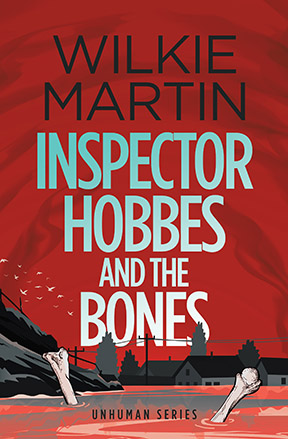 Unhuman IV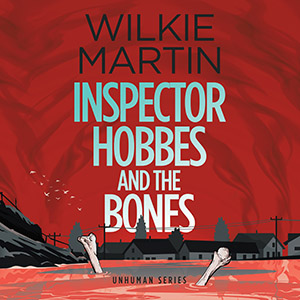 WINNER Independent Audiobook Awards 2019 Fantasy
NOMINEE Voice Arts Award 2019 Fantasy
There's going to be trouble. Andy Caplet's wife goes away, someone is out to get him, and he loses nearly everything in a storm. Amazing both himself and his unhuman friend Inspector Hobbes, he heroically rescues flood victims and uncovers something shocking.
Is Andy being set up for blackmail by the apparently charming young woman who attempts to seduce him, or is something even more sinister afoot? Hobbes certainly believes so, and he's getting worried.
This is the fourth in Wilkie Martin's unhuman series of cosy comedy crime fantasies.
'I was grateful for having been born human'
Reviews
'an intriguing cozy mystery with comedic overtones.', 'I gave it five stars because it made me laugh out loud on several occasions.'
Carolyn Injoy-Hertz, Injoyful Book Reviews

'I highly recommend this book and the series.'
idahobluebird50 MYSTERIES GALORE AND PHOTOS

'this book is pure, unadulterated fun.', 'I love the Sherlockian style trio of detective, sidekick and housekeeper', 'looking forward to reading more'
The bookasaurus

'it's just good fun.', 'Andy makes an excellent human sidekick to Inspector Hobbes and their relationship reminded me of the Holmes-Watson dynamic at first.'
Amy, ARC Book Review

'Instantly reminded me, of course, of Sherlock Holmes.'
Zoe, Our First Year Here

'I loved this. It's charming and bonkers.', 'It's just nuts. And I loved it. I will have to go back now and read the other three. Big thumbs up.'
Kirsty White, For the love of Books!!

'I really enjoy this series and Inspector Hobbes and the Bones was no exception.', 'Too fun to miss.'
Melanie Sanderson, The Qwillery – Melanie's Week in Review

'Wow, Wilkie Martin delivers another finely crafted tapestry of un-human mystery with a dash of incisive wit and provocative humor', 'A fun ride that is hard to put down.'
Anders Mikkelsen, Koeur's Book Reviews

'definitely the quirkiest book I've read in 2017!'
A Book Addict Speaks Out

'an addictive humorous read'
Jane Hunt Writer

'I love this series of audiobooks; they just keep getting better!'
Charla White, Audiobook Reviewer

Sylvia Kay Booktube Review
Listen to Wilkie Reading Extract
Wilkie reads some extracts from Inspector Hobbes and the Bones
1 – Andy and Hobbes hear about Crackling Rosy
2 – Andy braves the storm to go to the rescue of his odd neighbours
3 – Andy and Hobbes get the boats
4 – Andy rescues the boy
5 – Andy and Hobbes watch 'Skeleton' Bob and his wife Fenella
Listen to Wilkie Talking About Hobbes