Relative Disasters
by Wilkie Martin
illustrated by Ade Gorst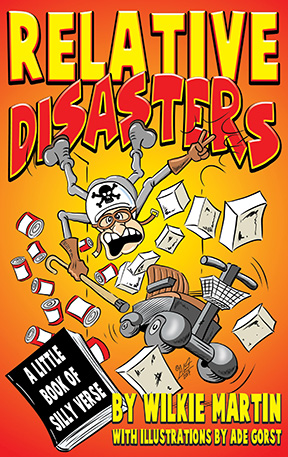 Description
A short collection of silly verse detailing the plethora of perils that come with being related to Wilkie. Containing six silly poems of nonsense and two short poems giving the events leading up to the unfortunate, untimely and unlikely deaths of fictional family members. Quirky and containing black humour, they are wonderfully illustrated by the talented Ade Gorst
Reviews
'Wilkie Martin's finely-crafted collection of poetry is more than mere silly verse'
poehemian
Listen to Wilkie Reading the Poems
Recordings of Wilkie performing most of these poems:
For Uncle Hedley, in Memoriam Wilkie's Uncle Hedley meets his end after a close encounter with a bumble bee.
A Gourmet's Unhappy End Another of Wilkie's uncles comes to a sticky end in the garden after a mishap with a bottle in the shed.
The Secret of my Success How Wilkie met with success after the sudden demise of an aunt and uncle at a birthday party.
The Fatal Funeral of Uncle Ray An overeating uncle's sad funeral, which caused the death of a poor aunt.
Rebel Spirit An overactive ancient grandfather gets some wheels and goes on the rampage.
Bonehead – A mysterious visitor means a sudden end in the middle of the night.