Before we started our publishing journey we considered how we expected to print and distribute books. This is the outline plan we put together. It focuses on distributing to Amazon as paperbacks and ebooks, and considers the routes to make books available more widely as paperbacks to online and physical bookshops. It assumes paperbacks are initially printed-on-demand (POD) via both LightningSource and Amazon Createspace (although it isn't necessary to use both). We've not completed all the distribution paths we first thought of (those with dotted links are pending), as, for instance, we've not completed any audio books or distributed any short stories yet, partially as audio via Amazon's ACW wasn't initially available in the UK (although it is now). Some of the things listed were tried (like Amazon eStore and Amazon Select) and were a mixed success which we may or may now continue with (most likely not continue with).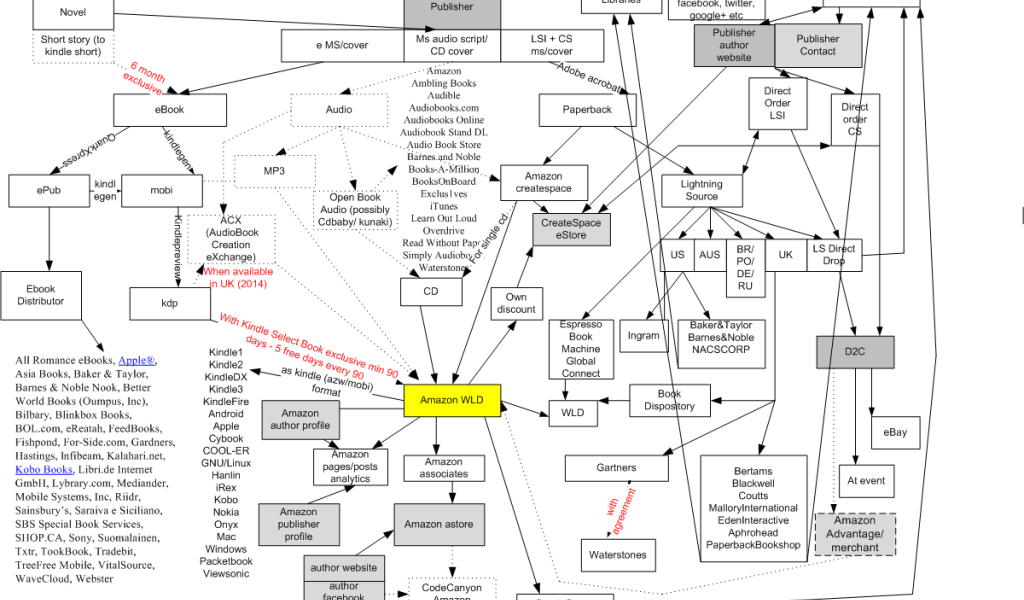 ---
Originally posted to wordpress.com on 4 November 2014.
Six years on and this distribution plan is more or less the same. CreateSpace is now KDP Print. We no longer use the Amazon astores. We have also now added audiobooks.